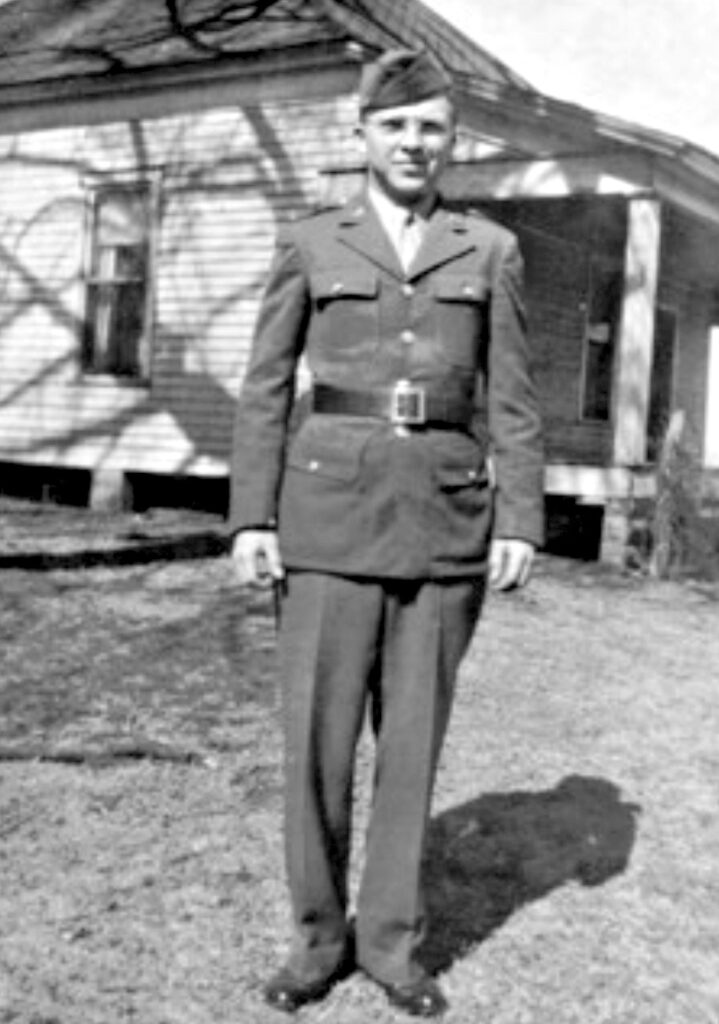 Andrew Wiley Dunavant was born on October 14, 1924 in Ripley, Tennessee. He was inducted into the U.S. Army on March 24, 1943 and began active service at Fort Oglethorpe, Georgia on March 31, 1943.
He was then transferred to Camp Butner, North Carolina at Durham for Basic Training. At Camp Butner, he served as a supply clerk with the 272nd field Artillery Battalion. After Basic, the Battalion was transferred to Ft. Bragg, North Carolina, where the Battalion was changed from 105mm Howitzer to 240mm. Private Dunavant qualified as a sharpshooter on the rifle and an expert on the carbine. On April 20, 1944, Private Dunavant was sent to the European Theater of Operations, arriving in Glasgow, Scotland, on April 27, 1944. He served in the Northern France, Ardennes, the Rhineland, and in Central Europe.
Sergeant Dunavant of Battery C 272nd Field Artillery, received the EAME Theater Ribbon with four Bronze Stars, the Good Conduct Medal during his World War II service. Sergeant Dunavant was Honorably Discharged on January 27, 1946, at Separation Center Camp, Atterbury, Indiana.
Sgt. Dunavant was called back into military service with the Army National Guard in August 1950. He returned to duty as a Staff Sergeant, again serving his country, this time in the Korean War. Staff Sgt. Dunavant served in Korea approximately 10 months with the 196th Field Artillery Battalion. He was awarded the Distinguished Unit Citation and the Korean Service Medal with two bronze stars.
Staff Sergeant Dunavant was Honorably Discharged in December 1951 at Fort Benning, Georgia.