Click here to see Lists of Tipton County Men Ordered to Report to Local Board
On May 18, 1917, the Selective Service Act was passed authorizing the President to increase temporarily the military establishment of the United States. The Selective Service System, under the office of the Provost Marshal General, was responsible for the process of selecting men for induction into the military service, from the initial registration to the actual delivery of men to military training camps.
During World War I there were three registrations. The first, on June 5, 1917, was for all men between the ages of 21 and 31. The second, on June 5, 1918, registered those who attained age 21 after June 5, 1917. (A supplemental registration was held on August 24, 1918, for those becoming 21 years old after June 5, 1918. This was included in the second registration.) The third registration was held on September 12, 1918, for men age 18 through 45.
The information included on each registration differs somewhat, but the general information shown includes order and serial numbers (assigned by the Selective Service System), full name, date, and place of birth, race, citizenship, occupation, personal description, and signature.
The registration cards consist of approximately 24,000,000 cards of men who registered for the draft (about 23% of the population in 1918).
It is important to note that not all of the men who registered for the draft actually served in the military, and not all men who served in the military registered for the draft.
Moreover, these registration cards are not military service records. They end when an individual reports to the army training camp. They contain no information about an individual's military service.
After the signing of the armistice of November 11, 1918, the activities of the Selective Service System were rapidly curtailed. On March 31, 1919, all local, district, and medical advisory boards were closed, and on May 21, 1919, the last state headquarters closed operations. The Provost Marshal General was relieved from duty on July 15, 1919, thereby finally terminating the activities of the Selective Service System of World War I.
---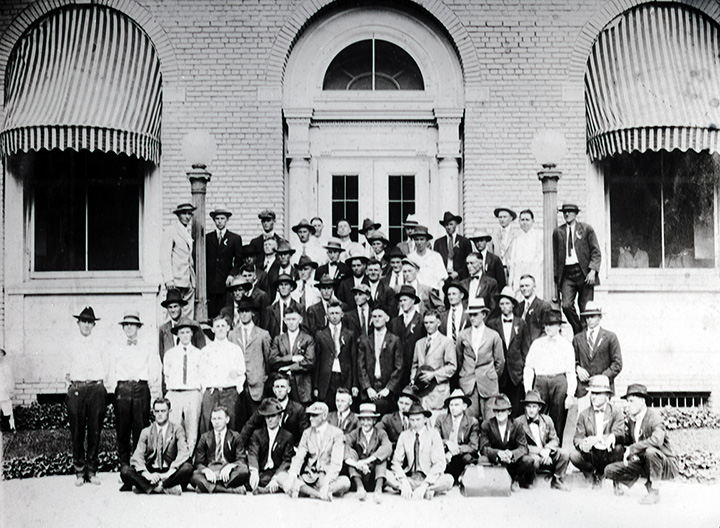 Tipton County WWI Numbers
According to the records of the Tipton County Selective Service Board, Tipton County registered a total of 5,998 young men for military service.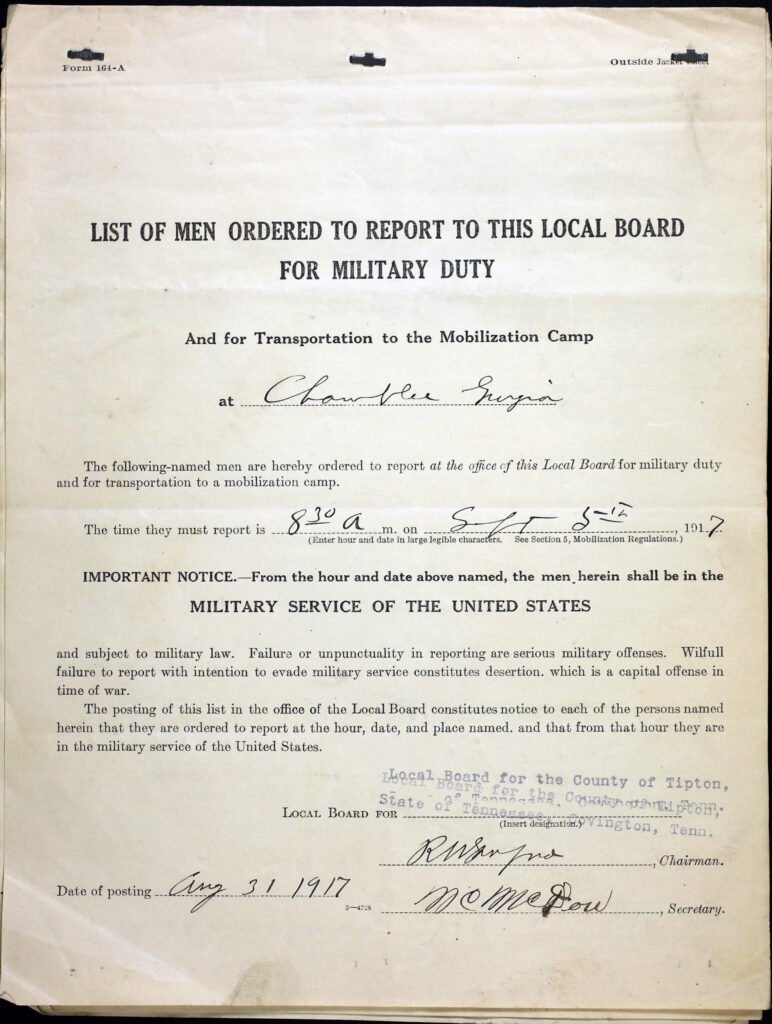 June 5, 1917 – 2,639 men
June/Aug 1918 – 340 men
Sept 12, 1918 – 3,019 men
1,107 were inducted and accepted upon arrival at camp
Physical Groups
1,337 – General service
44 – remediable
29 – limited service
75 – disqualified
Deferments
1,224 – dependancy
2 – agricultural
World War record of Tipton County service-members
1,094 – Service-members neither killed or wounded
27 – wounded
47 – dead
27 – U.S. Army Officers
15 – U. S. Marines
50 – U.S. Navy
14 – Fraudulent enlistments, dishonorable discharges and desertions
The Selective Service Board of Tipton County, TN was comprised of:
Chairman – Charles S. McClelland
Secretary – W. Clyde McDow
Chief Clerk – John H. Tipton
Dr. D. L. Hays
The Legal Advisory Board of Tipton County members were:
Chairman – R. B. Baptist
W. M. Simonton
W. V. Bringle