By Sherri Onorati, Special to The Leader
Last weekend, Saturday, May 21, 2022, a large crowd of Tipton County's leaders, and its citizens met at the Tipton County Museum, Veteran Memorial and Nature Center to honor and recognize America's heroes – its military – in a joint celebration service of Armed Forces Day, Memorial Day, and a special dedication to the Whitley family of Covington.
Organized by the Tipton County Veterans Council, the event brought together current serving military personnel, veterans, their families, and the community to remember and honor those who served America and its people.
Retired Navy Lieut. Commander Kathy Dejarlais served as Master of Ceremonies with retired Air Force Master Sergeant John McBride giving the invocation. Retired Navy Chief and Former Tipton County Veterans Service Officer Guy Critelli, gave the memorial address.
Critelli spoke of his last duty assignment onboard the USS Arizona Memorial at Pearl Harbor, Hawaii, which marks the final resting place of more than 1,100 sailors and marines killed on the USS Arizona during the attack on Pearl Harbor on Dec. 7, 1941.
"I was in the presence of greatness, surround by history, both the living and the deceased," recalled Critelli. "I remember when I took my first steps on the Arizona memorial, I was privileged to walk among survivors of Pearl Harbor and I was honored to be a part in interring a couple of my shipmates who had passed and reuniting them with their shipmates. For those who have gone, I thank you for your sacrifice to me, my family, and our nation. For those of you here today, thank you for continuing their legacy, for following in their footsteps, and for making America a better place."
United States Congressman Representative David Kustoff (TN-08) also attended the ceremony and after thanking Covington Mayor Justin Hanson and Tipton County Executive Jeff Huffman for their unwavering support of the community, spoke of the dedication of America's servicemembers and the importance of supporting them.
"I think about these young men and women who I meet with, whether I'm here or overseas, in uniform and we recognize them and appreciate them," said Kustoff. "Each time I have to vote on funding for the Department of Defense and the Armed Services, I vote for it each and every time. For somebody like me who has to look these young men and women in the eye and say I support you, to do anything but support them, I can't. They are the lines protecting us between freedom and the other side and we are totally indebted to them. The biggest and most important significance of Memorial Day to is recognize those men and women who have laid their lives to protect each and every one of us. To protect our freedoms and what we enjoy. Ladies and gentlemen, I don't care what anyone says, this is the greatest nation on earth and we owe it to those who have sacrificed their lives and we owe it to their families that we never forget them, that we never forget what they gave and we never forget their sacrifice."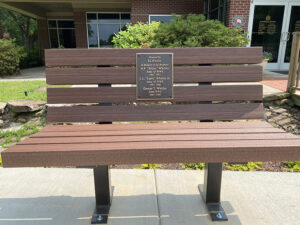 The Memorial Day event also recognized the wartime service of brothers, A.F. "Beany", L.L., and George Whitley of Covington, with a bench dedication which was installed in the front of the Tipton County Museum in their honor.
A.F. "Beany" Whitley served his country from 1941 to 1951 and saw combat in WWII and Korea. A dedicated community servant, he was a member of the Jaycees, and the Exchange Club and he coached Dixie League baseball. He served on the Covington School Board for 26 years and spent 22 years as its chairman. He was also extremely active in his church and served as a deacon.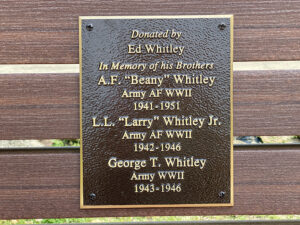 Larry "L.L." Whitley also served in WWII and when he returned home, he continued to serve his community as a Dixie League baseball coach, the Masonic Lodge and he was active in his church.
The youngest Whitley brother, George, also served his country faithfully during WWII in the Asiatic-Pacific Theater, earning an Asiatic-Pacific medal with three bronze stars and a Philippine Liberation Medal with one bronze star. Upon his return home, George worked at the Covington Leader for 57 years, serving as its publisher and managing editor. Inducted into the Tennessee Newspaper Hall of Fame, George Whitley was a true devotee of community service. He served for many years as a member of the Jaycees, Exchange Club, and the Chamber of Commerce. He also served Covington as an Alderman and Vice Mayor, and like his older brothers, coached Dixie Youth baseball and was highly active within his church.
Gratitude and appreciation were also given for the other two Whitley siblings who could not serve in the armed services, but nonetheless, served their country. Ed Whitley, Beany's twin, was medically unable to serve on the war front, but served just as patriotically on the home front, working many war bonds and tire drives contributing to the war efforts. He worked diligently to keep the spirits of his parents up while they worried about their sons serving, and he wrote continually to his brothers, reassuring them that all was fine at home, so they could concentrate on their tasks at hand. Sister Paulina Whitley Deverall also contributed during World War II, working at the Chickasaw Ordnance Gunpower Plant in Millington, and later in the Navy Exchange, where she got to know many young sailors, often away from home for the first time, and treated them like her own.
Tennessee State Representative Debra Moody (R-81) presented an American flag to Ginny Whitley on behalf of the State of Tennessee for her family's contribution and service to their community.
"I'm humbled to be able to present to the family a flag flown over the capital on the behalf of Governor Bill Lee, Senator Paul Rose, and myself, and the residents of Tennessee," said Moody. "We humbly and gratefully thank you for the service your family has given to our community and to our country.
Ginny Whitley and Linda Huffman, daughters of Larry Whitley and Paulina Whitley Deverall, respectively, were on hand for the ceremony and said their parents and their uncles' unselfish sacrifices were the reason they wanted to honor them.
"Two years ago, we were working on a way of paying tributing to our Dads' memories as well as benefiting Veterans in the county," said Ginny Whitley. "They served in WWII and went without hesitation and then came back and served their community. They were truly the greatest generation. It was a journey, but we ended up being able to put this together with the Veterans Museum and the Tipton County Veterans Service."
"It was very special and meant a lot to the family and it meant so much to us to be a part of this celebration to honor all veterans, not just our fathers and uncles," added Michael Whitley, son of A.F. "Beany" Whitley.
"This was recognition and heartfelt appreciation for them, but also for everyone who served," added Linda. "Recognition for lives well lived."