THE HISTORY OF MY WORLD WAR II SCRAPBOOK
By Hattye Thomas Yarbrough
My World War II scrap booking and memorabilia collecting became natural for me because the more I learned about the history of African American contributions to America's history the more I wanted to know and the more I wanted to share this history with others. Others being my high school classmates at Central High School in Paris, Tenn., fellow students at Lane College, Jackson, Tenn., church audiences where I was invited, the Covington/Tipton County, Tenn., students I taught at Frazier High/Elementary School and the programs I arranged and presented to the Covington/Tipton County community at Collins Chapel Christian Methodist Episcopal Church located in Covington.
When I graduated from 8th grade at Prospect Rosenwald Elementary School near Grand Junction, Tenn., in 1937, my father, John Neely Thomas, saw something in me I did not see. He was determined I would get "educated." But I could not attend the all-white Grand Junction high school located about two miles from our house, nor Allen White High School for colored located at Whiteville about thirty miles one way from our house. It was at this time my Papa Johnny decided to ask his sister, Annie Sibyl Thomas who was a third-grade teacher, and her husband, Professor William Robert Jarrett, the principal at Henry County Training School at Paris, if I could come stay at their Paris home and attend high school. Because the Jarrett's two sons, Thomas Dunbar and Vernon D. were headed to Knoxville College (KC) the fall of 1937, their room at 726 William Street was vacant. Dunny was going to KC as an English teacher, Vernon was entering his freshman year at KC. I inherited the "boys" room.
Not only did I inherit their room, I also inherited Vernon Jarrett's book case full of books and magazines. His books and magazines were by and about Negroes. I had never read or seen books or magazines about colored folks. Did this ever open a whole new world for me? From the fall of 1937 to this day, I have remained a strong advocate for the life and study of African American history. Among some of Vernon's books I remember are:
The Child's Story of The Negro by Jane Shackelford
The Negro in Our History by Carter G. Woodson
The Book of American Negro History by James Weldon Johnson
The Autobiography of An Ex-Colored Man by James Weldon Johnson
The Souls of Black Folks by W. E. B. DuBois
Not Without Laughter by Langston Hughes
The magazines Vernon had saved were copies of back issues of the magazines/newspapers his parents subscribed to: The Negro Digest, Opportunity, The Chicago Defender, and The Pittsburgh Courier.
The more I read and learned about the contributions of African Americans, the more I wanted to learn about Negroes in American history. A history not found in the textbooks in our all-colored schools. It was at this point and time in my young life I made a promise to myself that as long as I lived and had my right mind, I would share the stories of the contributions of my race to America's history. I have kept this promise made some 70 years ago. The most outstanding recognition of my continuous promotion of African American history came in November 1989 when I was named among the Mid-South 's volunteers by President George Bush in his Thousand Points of Light for teaching young blacks to know and appreciate their heritage and for the promotion of African American history in the Covington/Tipton County community.
Among other rich, rewarding experiences in my youth was the privilege to attend community programs sponsored by Paris' Civic League, which was made up of Negro men who invited people to come to Paris and speak to the people with a message designed to inform, inspire and encourage colored folks living in the segregated south. One nationally known speaker who came to Paris was Dr. Mordecai Johnson, a native Parisian and the first Black president of Howard University in Washington, D.C.
When Dr. Johnson came to Paris, he would always stay with one of his former Morehouse College room­mates, Robert Woodson. The Woodson family lived on William Street directly across the street from my extended Jarrett family. Almost always when Dr. Johnson came to Paris, Uncle "Jarrett" and Aunt Sibyl would invite him for meal. Having Dr. Johnson in the Jarrett house was exciting for me because I got to talk to him. What a pleasure it was for me to tell my Central High School schoolmates that we had Dr. Mordecai Johnson for diner at our house and I got to talk to him. I could go on and on about other famous persons who visited. Many of these visitors had to stay overnight at our house or with another Paris family because there were no hotel accommodations for colored folks in Paris, Tenn.
In 1941, I graduated second in my graduating class at Central High School and in the fall of 1941, I enrolled as a freshman at Lane College.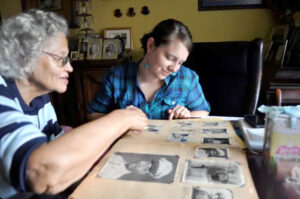 On Dec. 7, 1941, Japanese planes attacked U.S. ships at Pearl Harbor in Hawaii. The next day, Monday, Dec. 8, 1941, President Franklin D. Roosevelt declared war against Japan. This Pearl Harbor experience was the catalyst for my World War II history and memorabilia scrapbooking.
A military camp site was built at Routon in Henry County, near Paris and named for Brigadier General Lawrence D. Tyson. During World War II, Camp Tyson would be known as the U.S. Army's only barrage balloon training center.
During the summer of 1943 one of my Central High school classmates, Lillie Ruth Hudson, and I worked at Camp Tyson's service club #3. Service club #3 was built to accommodate Tyson's African American soldiers. My World War II scrap booking really grew while I worked at Camp Tyson. The soldiers who visited the service club would share their stories, pictures, uniform patches, and insignia with me. When many of these Camp Tyson soldiers were transferred to another World War II camp sites, they would stay in touch with me.
I was enamored by two Camp Tyson soldiers: M/Sgt Wallace B. 'Jack' Jackson from Chattanooga and S/Sgt Jon Michael Lewis, Jr., who was from Camden, New Jersey. It was 'Jack' Jackson who sent me three D-Day rocks, labeled D-Day, June 6, 1944, two shell casings from Normandy Beach in France and many articles and other memorabilia, which are found in my World War II scrapbook. When Jack returned from France, he immediately visited with me at Lane College. In subsequent years, Jack married Myrtle Bonds from Brownsville, Tenn., and moved to Los Angeles. Jon Michael Lewis, Jr. became an attorney, married, and lived in New Jersey until his death in 1991.
I graduated from Lane College in May 1945. After graduation my first job was at the Waynesville Junction USO located near Fort Leonard Wood, Missouri. Robert Lester Potts, among my best friends and classmate from Lane College, knew the USO director at Waynesville Junction USO. Joe Neal, the USO director was also a Lanite. Potts was responsible for our getting jobs at the Waynesville Junction USO. I worked at the USO from June to October 1945. Again, at Fort Leonard Wood men shared their stories, pictures, patches, and insignia with me. I had the good pleasure to meet S/Sgt Samuel A. Countee, an artist in residence stationed at Fort Leonard Wood and Ossie Davis, who became an outstanding actor after he was discharged from the U.S. Army. Samuel Countee's painting of a man strumming on his banjo to a woman lounging in the grass was painted on the walls of the African American officers' club at Fort Leonard Wood. During the summer of 1945, Ossie Davis wrote, produced, and staged the play, Gold Bricking, at the Waynesville Junction USO. Countee and I painted the backdrop for Ossie Davis' play. Ossie Davis dated the USO librarian Elsie Harold, who was from Kansas. In one of his biographies, Ossie mentions Elsie.
I did not meet the man I married Ordrell Yarbrough from Covington, Tenn., until many years after World War II. I did included Ordrell's World War II information in my scrapbook, but because I did not know him during the war years, I have no picture of him in his army uniform. Ordrell and I were married Sept. 18, 1951, at Vicksburg, Mississippi. We both were educators. Ordrell taught agriculture in the Shelby County. Tenn., school system and I was an elementary school teacher and high school librarian in the Covington-Tipton County school system.
I am eternally grateful to my parents and family, my extended Jarrett family, my friends and fellow educators, the teachers in my life, my church families, and the people in the Covington-Tipton County community who supported my educational journey and my efforts in the continuous promotion of African American history and culture.
Finally, I salute and honor the memory of my relatives who served during World War II; the men and women who served our nation nobly and shared their war stories, pictures, and other memorabilia as we met at Camp Tyson and Fort Leonard Wood, on troop trains and buses, on the campus of Lane College, on the streets in many cities and in homes and churches.
This history was written by Hattye M. Thomas Yarbrough in Dec. 2011, and later shared with Tipton County Museum Archivist Sherri Onorati.